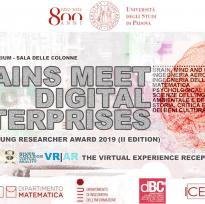 BRAINS meet DIGITAL ENTERPRISES | HIT-DIGITAL MEET YOUNG RESEARCHER AWARD
Orto Botanico di Padova, Prato della Valle 57/c, Padova
22.10.2019
BRAINS meet DIGITAL ENTERPRISES | HIT-DIGITAL MEET YOUNG RESEARCHER AWARD
We left off in style with the closing event of the DIGITAL MEET 2018. We'll meet this year with the acclaimed event of the opening of DIGITAL MEET 2019.
Tuesday, October 22, in the magnificent setting of the Botanical Garden of the University of Padua, will be held the prestigious BRAINS meet DIGITAL ENTERPRISES, organized by HUMAN INSPIRED TECHNOLOGY RESEARCH CENTER and DIGITAL MEET with the support of the University of Padua and numerous Departments and Research Centres.
HIT, with more than 70 researchers and scientists from 9 different departments, studies at international level the relationship between people and new technologies, designs intelligent living environments, works with virtual simulators and cognitive neurotechnologies, explores the use of artificial intelligence in the area of health and accessibility, investigates the secrets of on-line communicationline and digital marketing, elaborates endless design solutions for innovative interfaces, plans the workplace of the future and training systems based on computers.
For the occasion, together with the DIGITAL MEET, HIT is preparing the second edition of HIT|DIGITAL MEET YOUNG RESEARCHER AWARD - the prize recognized by the HIT Research Centre through a commission of 20 academics, industrial and other stakeholders - to the best young researchers who are working to get a doctorate or other research activities (grants) at the University. Moreover, in cooperation with companies and associations of the territory, HIT is organizing for the opening ceremony of the Digital Meet 2019, a spectacular showcase of virtual and augmented environments, video 3D 360° and innovative interfaces used in the archaeological, civil, architectural, cultural, ergonomic, tourist, educational and entertainment fields.
The virtual experiences will accompany us during the evening reception during which we will also present the doctorates, the exposed works and, of course, will be served aperitif and dinner.